On April 28, 2017, Michigan cornerback Jourdan Lewis became the 92nd overall selection in the NFL Draft, going to the Dallas Cowboys in the third round. A day later, the New York Jets drafted fellow Michigan cornerback Jeremy Clark in the sixth round. Within another week, a third Michigan cornerback, Channing Stribling, would sign a contract with the Cleveland Browns as an undrafted free agent And just like that, one of the best coverage units in Michigan history was off to professional football.
Lewis, the best of the bunch, made first-team all-American in both his junior and senior seasons and holds Michigan's school record with 21 PBUs in a single season. He'd have a solid case for being the best CB in school history, had he not attended the alma mater of one Charles Woodson. Paired with two NFL-caliber boundary corners, Lewis led Michigan's pass defense to a top-15 performance in 2015 (#13 to S&P+), and the unit became the nation's top-ranked passing defense in 2016. That's what graduated from Michigan and migrated to the NFL the following spring.


In the more distant history of Michigan Football, the graduation of even such accomplished players as Lewis, Clark, and Stribling would generally have been met with the mildest of consternation, in the assumption that whoever ascended to their starting roles would surely perform adequately enough. But Lewis had come to Michigan in 2013, the year the Brady Hoke experiment had truly begun to unravel. That season wasn't far removed from the gloomiest days of his predecessor, the luckless Rich Rodriguez, whose legendarily incompetent pass defenses linger in the darkest reaches of Wolverine memories. So Lewis' departure, and that of his veteran teammates, was a fearful occasion for some—met with anxiety and Bormir memes. One does not simply replace the #1-ranked pass defense on S&P+.
Or maybe one does. Lavert Hill, a coveted high school cornerback prospect in the 2016 class out of Detroit MLK, had pledged his services to James Franklin and the Penn State Nittany Lions until the combined labors of Jim Harbaugh, Tyrone muthaf***in Wheatley, and probably Hill's brother (former Michigan safety Delano Hill) set him straight. Hill quickly proved those efforts worthwhile, showing promise in limited action as a freshman and staking a strong claim as heir apparent to Lewis' field corner position.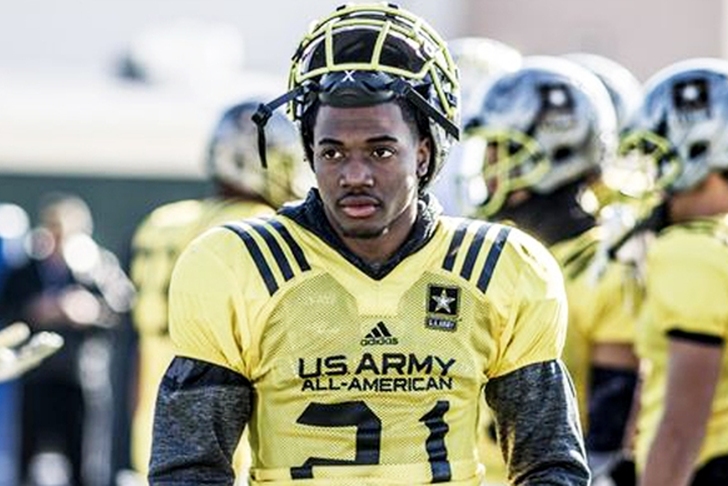 Across the gridiron, Harbaugh had inked an even more highly-touted 2016 prospect for the rough-and-tumble boundary corner position. Los Angeles prospect David Long, at 6' tall and with electronically-timed 4.4 speed, was ranked well within the top-100 on every major recruiting website, and consistently praised for his coverage, tackling, and general play-making ability. Mgoblog declared him a lock, and there didn't seem to be any reason not to agree. But Long missed almost all of the 2016 season with an injury/redshirt, so while Hill had shown some talent at the field spot, the boundary corner position loomed as a total question mark headed into fall 2017. And that's when the interview happened.
Sports coaches are notorious for answering media inquiries with clichés and worthless information. Michigan secondary coach Mike Zordich is not most coaches. Asked how "those young corners [were] coming along" as his first question at a press conference less than two weeks before the team's 2017 opener, Zordich's answer was blunt. "Not fast enough." The surprised reporters gave him several chances to retract or hedge his statement, but Zordich only doubled down. "It's just not happening," the coach lamented. "Hopefully somebody will [emerge] in the next five to seven days because we've got to get ready for a game … I don't want to sound like the sky is falling, but there is an eclipse."


The eclipse must have passed quickly, however, because once the season started, the sophomore duo proved lights-out. Michigan finished the 2017 season ranked #3 in pass defense (per S&P+), and opponents generally avoided testing Michigan's corners—preferring instead to attack safeties and linebackers when they did go to the air. Long and Hill held the Big Ten's best receiver, Indiana's Simmie Cobbs, to just four catches for 39 yards, while holding OSU star Parris Campbell to just 12 yards on three receptions. Perhaps most impressively, Long posted the lowest opposing passer rating (11.9) and fewest yards allowed per coverage snap (0.36) of any corner in the nation, while Hill did even better against Big Ten opponents—leading Big Ten corners with just 0.26 yards per coverage snap in conference play.
Hill's forte, like fellow Detroit product Jourdan Lewis before him, is man-to-man coverage. Despite his small stature, Hill uses exquisite technique, phenomenal agility, and an impressive vertical leap to frustrate and shut down receivers who often
tower over him
. Here Hill
dominates a route
against battlemech-style IU receiver Simmie Cobbs, skying for the interception over the 6'3" star. Here, Hill bursts from a trail position to
PBU
a crossing route—ordinarily a very difficult route to cover man-to-man. Long, on the boundary side, plays a more physical style than Hill—but that can work in coverage too, as you see here
against Purdue
and here
against South Carolina
. Oh, and here's
some more Cobbs frustration.
Both are adequate
run defenders
. And both can
make something happen
when they get two hands on the ball.
Both Hill and Long will be true juniors as they head into the 2018 season, and this year the question won't be whether Michigan will still have reliable corners with Lewis & Co off to the League. Rather, the more likely question will be whether 2018 is the last season we'll see either player in the winged helmet. Both are currently projected as late-round picks, were they to declare early after the 2018 season, and could move up by adding strength and size in the weight room, further refining their technique, and producing another year of strong play on the field.
Michigan's reserve corners for 2018 will almost certainly be sophomore Ambry Thomas on the field side, and fifth-year senior Brandon Watson on the boundary. There were some who thought Thomas, another Detroit King graduate and top-100 recruit with an electronically-timed 4.43 forty and elite ball skills, would rocket past Hill or Long to start as a freshman at Michigan. But one look at Thomas in his Wolverine uniform dispelled that illusion. Listed charitably at 170 lbs., Thomas arrived in Ann Arbor rail-thin and clearly not a viable option for holding an edge against Big Ten rushing attacks. He still got into all 13 games, mainly as a kick returner, and his talent is undeniable. Look for Thomas to appear more regularly on defense this season as the staff grooms him for a starting role in 2019.


Watson is the practical antithesis of Ambry Thomas, being an unheralded three-star recruit Brady Hoke dug up from the now-defunct Eastern Christian Academy (a bizarre "high school" in which the students took an on-line curriculum while focusing on football). While lacking in speed, Watson was not lacking in size—and tended to play defense by using his
ridiculously-jacked arms
to club receivers into submission before they could even get started on their routes. Of course, that's the type of thing that works well in high school but gets one's ass kicked in college, so Watson not surprisingly disappeared for his first three years at Michigan.
Those who hadn't forgotten about Watson's presence on the roster thought he was too slow for cornerback, and urged a move to safety or the hybrid S/LB "viper" position. When he didn't, the widespread expectation was, frankly, that Watson would quietly play out his fourth year in 2017 and move on to a career in something other than sports. But then the season started, and in the first half of the first game, Watson came and in a
PBU'd a fade route
along the left sideline. The play showed Watson had enough speed to be a useful piece after all; he continued his contributions as a reserve corner (and special teams demon) throughout the season, and what do you know? He's back in 2018 for year 5.
Probably the last cornerback with any realistic hope of contributing in 2018 is another guy with an unlikely path to glory, redshirt sophomore Benjamin St. Juste. Most Michigan fans first heard St. Juste's name on June 23, 2015, when Michigan Insiderreporter Bruch Marich announced that Jim Harbaugh had accepted a commitment from the unranked (and basically unknown) cornerback prospect out of Montreal. This news sent the Michigan comment boards into a meltdown, as recruiting stargazers lamented that only a team comprised of guru-approved four- and five-star talent could hope to compete with the likes of Ohio State. Nondescript three-stars wouldn't get the job done, let alone random nobodies from Canada. Why, they furiously wondered, was Jim Harbaugh settling for such players. When St. Juste tore his ACL a few months later, many of those same voices undoubtedly expected the obscure prospect would soon be back on the market.


But Jim Harbaugh did not "process" St. Juste, as his doubters may have hoped. And when he returned the field, St. Juste quickly began showing the scouts the same things the Michigan staff had seen in him. Former Michigan corner and technique guru Todd Howard called St. Juste "a legit corner" and praised his footwork. St. Juste competed at the prestigious Nike camp, The Opening, where he posted an elite (3.93) shuttle time and made the "Dream Team," gaining recognition as one of the best corners in attendance. As the months grinded on, St. Juste steadily climbed the recruiting rankings. By national signing day, St. Juste finished as a four-star prospect on both Rivals and 247 Sports, a top-20 corner prospect on both sites and a top-100 overall player to 247. So yeah. Rankings.
Thing about St. Juste though, is he's still a 6'3", 195 lb. corner from Montreal. He enrolled early and played in the 2017 spring game, where he quickly proved he was…not ready—not strong enough, and in need of much technical development. So he took the obvious redshirt and now, a year-and-half later, Michigan just might have something. Anytime your coach is Jim Harbaugh and you've got a 6'3" cornerback on the roster,
a certain kind of potential
is going to beckon. Nah. Maybe! But nah. Right?
Cornerbacks: Bottom Line
Projected Starters

: Lavert Hill (field), David Long (boundary)

Key Reserves:

Ambry Thomas, Brandon Watson, Benjamin St. Juste

Other possible options:

Jaylyn Kelly-Powell, Myles Sims, Gemon Green, Sammy Faustin, German Green

Position Grade:

A, should be one of the best units in the country, probably the best in the B1G, and a key strength of the 2018 team.