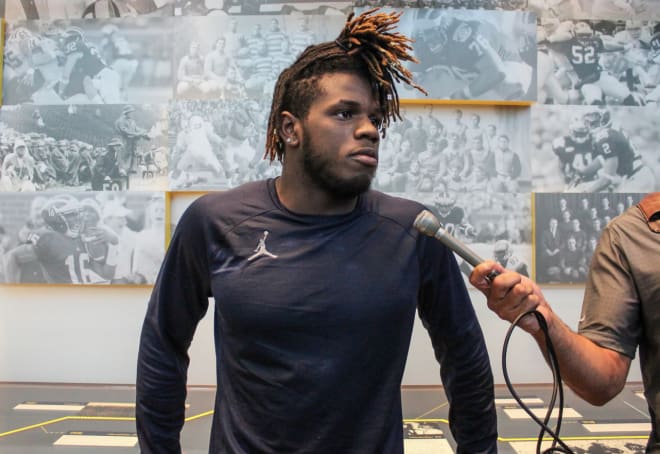 Safeties
In an earlier installment of this series, I wrote that the 2017 Michigan defense had two distinct weaknesses. One—discussed in that earlier piece—was the ability of opponents with skilled receiving backs to exploit weakside linebacker Mike McCray in space. The other was that Michigan's safeties, Tyree Kinnel (FS) and Josh Metellus (SS) were vulnerable to vertical passing routes in the slot.
On further examination, however, I am not sure I agree that vertical slot routes was such a consistent weakness after all. Rather, it was a vulnerability that one team, Penn State, mercilessly exploited. There was this desperation heave to 6'7" jump-ball specialist Mike Gesicki. There was this one-handed grab by another Penn State receiver. There was a straight up fade to Saquon Barkley—though really just another example of McCray getting worked in space. There was even this slant route that abused Kinnel to the tune of 26 yards.
The Penn State coaches might have detected this weakness by watching M's game film from the Cininnati game, in which some no-name slot receiver dusted Metellus for what should have been a walk-in touchdown had the QB not overthrown him. After the Penn State game, however, M seems to have adjusted to the problem. Subsequent opponents were not able to even approach Penn State' success on the vertical slot routes.
Yet opposing offenses still found success against Michigan in the slot, whether through late improvisations on scramble drills, seeing-eye Hornibrook balls, or the deadly crossing routes to K.J. HIll that largely cost Michigan the Ohio State game. Those plays may have taken great execution, but they still happened though—and that about sums up the state of Michigan's safeties. Kinnel and Metellus are solid and responsible; they are not the murderous turnover-machines that teams like USC, OSU, and Alabama consistently field at safety. Even, sadly, when J.T. Barrett throws one right to you.
With McCray giving way to faster, more athletic linebackers and substantially all of Michigan's other key defensive players from 2017 returning except Mo Hurst, ratcheting up the slot coverage a few notches is priority #1 for Don Brown and his charges. Solve that issue and avoid springing a new leak somewhere else, and the 2018 defense should be the best Michigan has put on the field since Charles Woodson was in town.
As for personnel, Kinnel is now a senior and very much the "old man" of Michigan's starting defensive backfield. While he's a reasonably good athlete with strong coverage chops, he's not the kind of dominant talent who can expect to shut down an electric slot like K.J. Hill on pure talent alone. But safety is definitely a position that favors the savvy veteran, so hopefully all the years of (Michigan secondary coach Mike) Zordich yelling at him will pay off with a monster senior season. Anyway Hill's a special case; Michigan will probably have to play its best cover corner, Lavert Hill, on K.J. when the time comes— look for Kinnel to stone his own slot responsibilities in the meantime.
As for the box safety, Metellus has reportedly locked the job down again despite a bit of a push from heavy-hitting J'Marick Woods and converted WR Brad Hawkins. And that's pretty much good news, really. Yeah, Metellus didn't catch that pick against Ohio State but overall he's pretty much what you want in a box safety: decent speed, knows where he needs to be, physical tackler. Now he's got a whole year of starting experience under his belt, so life slows down and the 2018 version of Metellus catches that ball. I mean, his hair is way too cool not to give him another chance.
Backups are not much of an issue. Woods, your resident head-hunting style safety, has played some already and looks competent. He'll get time behind Metellus and should do well with it. At the free, M has the coverage sprite Jalyn Kelly-Powell and the mysterious Hawkins—neither of whom we've seen. Hawkins has the more prototypical size and likely the more well-rounded game, but probably doesn't see the field outside garbage time unless Kinnel gets dinged. JKP is more of an undersized CB/S tweener known for his coverage skills—which potentially makes him a useful situational piece right away.
Viper
Speaking of hybrids, Don Brown doesn't play a traditional strongside linebacker (except in certain packages) and instead seeks out and fields a spread-killing LB/S combo player that he likes to call "Viper." His first Michigan Viper was Jabrill Peppers, of course, the guy who came to Ann Arbor back in 2014 as the #2-ranked high school player in the entire country and was expected to spent the next few years forcing Big Ten offensive coordinators to delete the "screen pass" pages from their playbooks.
Peppers was named an AP all-American first-teamer in 2016 and then declared for the NFL Draft, where he was taken in the first round. So that's a pretty high standard to match. And yet Peppers' successor as the Michigan Viper, Khaleke Hudson, looks well on his way to doing precisely that.
Peppers, its worth noting, played at about 205 lbs. at Michigan. He began his career as a boundary corner and might well have wound up a traditional safety—which is what the Cleveland Browns seem to think he is. Maybe that makes sense in the NFL—the EGD don't know, he don't watch the NFL. But Michigan's a college team that needs a super-fast guy at the linebacker level to deal with spread offenses, and so they made Peppers a tiny linebacker. And he was great at it—as long as he didn't need to take on blocks, which he generally didn't because he played behind a defensive line with guys like Chris Wormley, Ryan Glasgow, Willie Henry, and Taco Charlton.
Khaleke Hudson isn't a defensive back playing in a linebacker's spot. He's a true hybrid player, at 220 lbs. He tackles skill players in space about as well as Peppers did. But he's a superior blitzer and can discard a blocker when he needs to. Hudson has also shown a knack for stripping the ball and generally creating havoc in opposing backfields. Now that he's a junior, expect even more destruction.
This is hopefully an academic discussion, but officially the backup viper is the third amazing Glasgow brother, Jordan. But there's a good chance the real viper backup is actually Josh Metellus, seeing as J'Marick Woods might well be a better box safety than Glasgow is a viper, and Metellus is kind of a poor man's Jabrill Peppers. But seriously, Khaleke, stay healthy bro.
Bottom Line: Safeties & Viper
Probable starters: Tyree Kinnel (FS), Josh Metellus (SS), Khaleke Hudson (Viper)
Key backups: J'Marick Woods, Jaylyn Kelly-Powell, Jordan Glasgow
Other possible options: Brad Hawkins, freshmen
Position grade: A-
Michigan has two responsible, reasonably athletic safeties with plenty of experience, a viper who's the Rogue One version of Darth Vader in a winged helmet, and a little bit of depth.