So, I logged into MGoBlog yesterday afternoon to check on things and was surprised to see a thread celebrating the actual start of the college football season.

Granted, the only FBS game was Hawaii @ Colorado State and the announcers readily referred to the affair as "week zero."

But it's pretty clear nonetheless that time is running short.

Michigan kicks off at Notre Dame in just six days and I still have a good five or six position groups to cover (depending on how they are classified).

Plus I was hoping to do a couple separate pieces on offensive and defensive schematics, which are not looking likely at the moment.

So in an effort to complete this preview before Michigan's season actually starts, I'll be going a bit less in-depth from here on out and just focusing on the most important information.

To that end, let's go ahead and get started with Michigan's 2018 offensive line.
Ever since Jim Harbaugh returned to Ann Arbor, Michigan fans have looked forward to an offensive line resembling the dominant gap-blocking units Harbaugh assembled at Stanford.

For a multiplicity of reasons, that has not yet happened.

The 2015 and 2016 lines were underwhelming in the running game, though outstanding at pass protection.

But after that cohort of linemen largely graduated following the 2016 season, Michigan was left with a truly problematic line for 2017.

With LT prospect Logan Tuley-Tillman having been dismissed from the team in late 2015, Grant Newsome unable to return after a gruesome knee injury in 2016, losing top OT prospect Devery Hamilton to Stanford on a late flip in the 2016 recruiting cycle and then 5-star "silent commit" Isaiah Wilson flipping to Georgia in the 2017 class, the Wolverines simply could not buy a break at the OT position.

Michigan would reap the wages of this misfortune in 2017.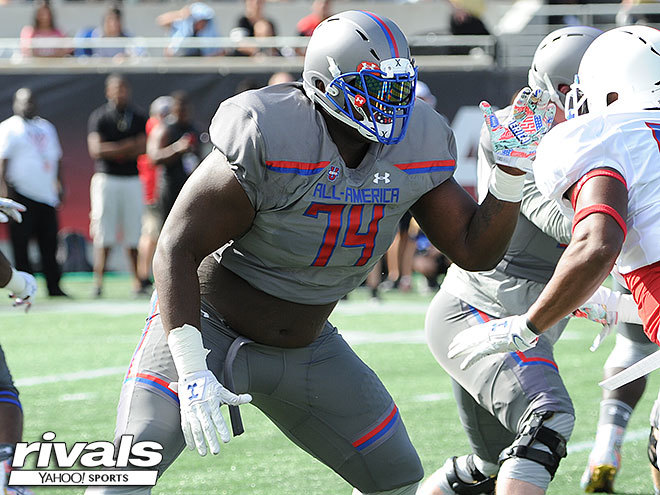 5-star prospect Isaiah Wilson had "silently committed" to
Michigan for 2017. He decided to attend Georgia instead.
Mason Cole had played two seasons at left tackle, but moved to his natural position—center—in 2016.

M's crisis at OT forced Michigan to move Cole back to LT at the start of 2017, however, thus making Cole's backup (Patrick Kugler) the starting center.

But while the Cole/Kugler combo at LT/C was a frustrating downgrade from the Newsome/Cole combination that should have been, this issue paled in comparison to M's problems on the right side.

M would begin the year with Nolan Ulizio starting at RT, but he soon proved ineffective and was replaced with Juwann Bushell-Beatty—a powerful run blocker who struggled mightily in pass protection.
The tackles were not the only trouble spots on the 2017 line.

Both guards were second-year players (sophomore Ben Bredeson and redshirt freshman Michael Onwenu), and their inexperience would lead to costly mistakes.

Then, the offensive line coaching duties were unorthodoxly divided between gap-blocking maven Tim Drevno, who coached the interior line, and zone guru Greg Frey, who coached the tackles.

All of these potential issues would proceed to go about as poorly as possible.
At the start of the season, with the athletically-limited Ulizio at RT and the offense heavy on zone runs, Michigan struggled to run the ball consistently.

Difficulty in the running game could be tolerated so long as the line could pass block, but M's pass protection was positively horrendous.

Michigan surrendered five sacks to Florida in their opener, gave up three more sacks against the woeful defenses of Cincinnati and Air Force, and then five more in their first Big Ten game at Purdue.

One of the Purdue sacks, a defense player came down hard on QB Wilton Speight's neck and caused a spinal injury that ended his season.

A week later, the Michigan offensive line would allow four more sacks as Michigan sustained its first loss of the season—a forgettable 14-10 sludgefart in the driving rain against Michigan State.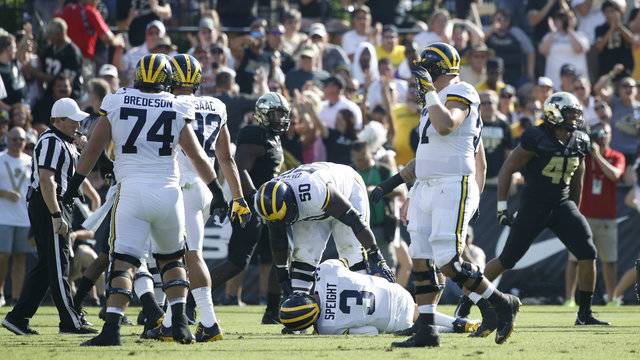 The following week, Michigan replaced Ulizio with JBB at right tackle and redevoted itself to gap blocking offensive schemes.

The Wolverines ran for 271 yards and, for the first time all season, did not give up a sack.

The rushing production held up, as M rushed for 334 yards two weeks later against Rutgers, and 371 yards in the following game against Minnesota.

But the lack of QB sacks proved more a fluke against an overmatched opponent than a product of quality protection.

Minnesota recorded three sacks against Michigan, including this haymaker.

While QB Brandon Peters would somehow walk away from that hit unscathed, the lack of protection would catch up with him eventually; Peters sustained a concussion on a vicious hit from a Wisconsin defender and missed the rest of that game and the Ohio State game a week later.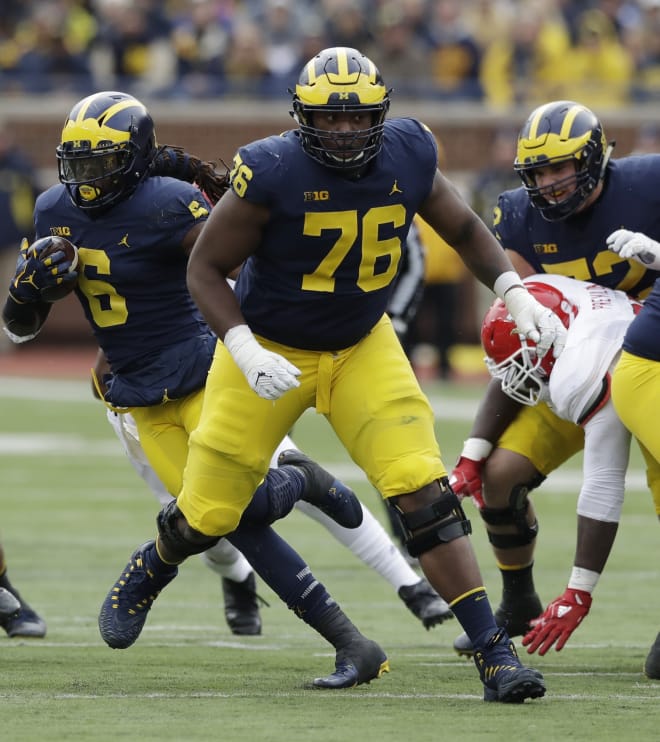 When the dust settled on the 2017 season, two of Michigan's three quarterbacks had missed games to injuries inflicted by pass rushers, the record was a disappointing 8-5, and Michigan's best lineman, Mason Cole, had exhausted his eligibility.

Even so, only the most insufferable pessimist would fail to see the reasons for expecting 2018 to go much better.
Importantly, the main problem with M's pass protection in 2017 was not with inferior athletes being physically beaten by opposing rushers; rather, M's inexperienced linemen struggled to pick up simple twists and stunts and had great difficulty with zone blitzes and other schemes designed to confuse pass protectors.

The result was not poor blocks and quick pressures, but missed assignments and free rushers.

Chances seem very good that players like Bredeson and Onwenu, now with significant playing experience, will cope more successfully with DL tactics at this stage in their careers.

Redshirt junior Jon Runyan Jr., who has supposedly locked up the starting LT job, gives M at least one upperclassman on the edge.
Second, taking over at center is sophomore Cesar Ruiz, who came to Michigan last season as one of the highest-rated recruits in school history and immediately proved it—forcing his way into the lineup and threatening Onewenu for his starting spot at RG.

Ruiz should be an upgrade over Kugler at the center position, giving M one of the best interior OL groups (LG-C-RG) of any team anywhere.
Third, M finally has some help coming from the recruiting ranks at OT.

Four-star defensive tackle prospect James Hudson flipped to offense in fall camp last year and is now pushing JBB to start at right tackle.

True freshman Jalen Mayfield was reportedly in the mix as well earlier in fall camp; the chatter on him has died down but freshman OL don't pop in fall training camp unless they show up with advanced technique or ludicrous physical talent.

Mayfield.

Another third promising young tackle, redshirt freshman Andrew Stueber, is working back from injury and provides depth if nothing else.
Fourth, Michigan's 2018 quarterback situation should be at least somewhat more forgiving of dodgy pass protection.

Shea Patterson gets the ball out quickly, and his mobility is decidedly superior to Wilton Speight's and at least comparable to John O'Korn's or Brandon Peters.'

His skill set should ratchet down the degree of difficult for M's line a at least notch or two this season.
Fifth, and perhaps most importantly, Michigan cut ties with Tim Drevno over the offseason and Greg Frey went to Florida State—and hired in their place renowned offensive line coach Ed Warinner.

Now, this is kind of an odd thing to view as an improvement because both Drevno and Frey are highly accomplished OL coaches in their own rights.

Yet Frey's zone-blocking style proved a poor fit with Harbaugh's offensive approach, and Drevno was not able to simply focus on the offensive line at Michigan.

Rather, Drevno's status demanded a bump in title and responsibility, so he was the "run game coordinator" and co-offensive coordinator with Pep Hamilton.

Whether he was distracted by his additional responsibilities, overwhelmed, or whatever it was, Drevno had a rough year.

He couldn't get his offensive guards on the same page with the tackles, seems to have needed Harbaugh to step in and fix the running game after the MSU loss, and ultimately gathered the offensive linemen together and apologized to them for his poor coaching before resigning in February.
Enter Ed Warinner, whose bio includes coordinating the offense for the miraculous 12-1 Kansas team from 2007, coaching Brian Kelly's offensive line in 2010-11, and coordinating Ohio State's offense under Urban Meyer from 2012-2016.

He's not going to be any kind of step down from Drevno or Frey; indeed, Warinner looks to be another coach in the mold of Greg Mattison or Don Brown: an a super assistant who embraces and excels at being an assistant.

That seems like just what the doctor ordered for the 2018 Michigan offensive line.
When the season kicks off, look for a starting line of Runyan (LT), Bredeson (LG), Ruiz (C), Onewenu (RG), and Bushell-Beatty (RT).

That's a veteran line that should open holes in the running game and minimize confusion errors in pass protection.

As the season wears on, look for Hudson or possible Andrew Stueber to push through into the starting lineup—likely giving M a boost in strength and athleticism.

In case of injury, look for Spanellis to replace any of the interior three, while Hudson and Stueber vie for the backup tackle role.
Bottom Line: Offensive Line
Probable starters: Jon Runyan Jr., Ben Bredeson, Cesar Ruiz, Michael Onwenu, Juwann Bushell-Beatty
Key backups: Stephen Spanellis, James Hudson
Other possible options: Andrew Stueber, Jalen Mayfield, Nolan Ulizio
Position grade: C+
Cesar Ruiz is likely to establish himself as an elite lineman by the time he is done at Michigan, but this is his first season starting and it may not happen right away.

Bredeson is a solid B1G lineman who can realistically content for all-conference honors this season.

After that, M is hoping for average production—which would be a significant improvement over last season's catastrophe.

Right guard should be solid, whether it's Onewenu or Spanellis, but Runyan and JBB could very well prove to be liability starters at the OT spots and an injury to either player could be devastating if the freshmen aren't ready.

The best hope is for Runyan to surprise and for Hudson to break through early on.