The NFL is often said to be a quarterback's league. Certainly it takes much more than a good quarterback to compete for championships (as the plenty of Detroit Lions fans reading this post have undoubtedly observed). But in the NFL, without a good QB you don't even have a chance. A quarterback has won the AP Most Valuable Player award in ten out of the last eleven seasons, and 41 times overall (in the 60 seasons the award has been given). Only eight active QBs have won Super Bowls (Tom Brady, Ben Roethlisberger, Eli Manning, Drew Brees, Aaron Rodgers, Russell Wilson, Joe Flacco, and Nick Floes), and two others have reached Super Bowls (Matt Ryan and Cam Newton); all of those players have been Pro Bowl selections and four have won MVP awards.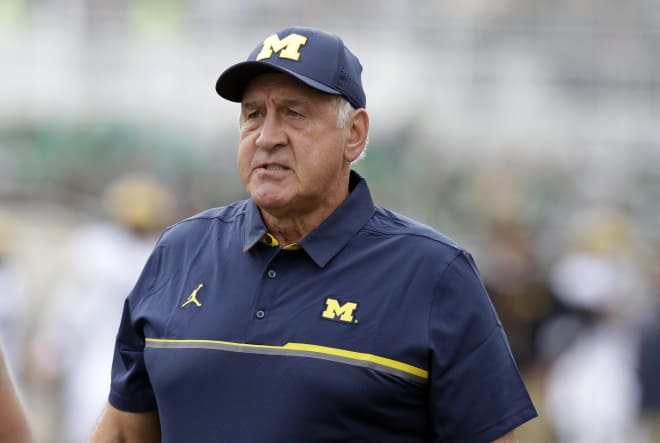 Michigan defensive line coach Greg Mattison
A good quarterback is important in college football too. But unlike pro football, where an elite QB is essentially a prerequisite for championship contention, a college team can win with a run-first option QB or an athletically-limited "game manager." What a college team cannot thrive without, however, is a quality defensive line. A team that plays a two-gap defense needs stout linemen to keep its linebackers clean, or the scheme quickly breaks apart. A team that plays a one-gap defense, like Michigan, needs ferocious linemen to penetrate and disrupt the offense—or will find itself bleeding yardage and wearing down against increasingly confident opposition.
Michigan by-and-large has had those linemen in recent seasons. For all of M's struggles elsewhere the defensive line has at least been solid dating back to the end of the Hoke era, and since 2015 has been among the best units anywhere in the nation. The pinnacle of M defensive lines was the 2016 group, which boasted an all-American anchor (Chris Wormley), a first-round draft pick at WDE (Taco Charlton), another all-Big Ten player at NT (Ryan Glasgow), a future all-American at 3T (Maurice Hurst), and then a second-stringthat would itself have been among the better B1G defensive lines (WDE Chase Winovich, anchor Rashan Gary, 3T Matt Godin, and NT Bryan Mone) alone.
Despite losing three starters to graduation, M featured another beastly defensive line in 2017—and heads into 2018 with prospects of a unit to rival the fearsome 2016 squad. Anchor Rashan Gary, the #1-overall recruit in the 2016 class and projected top-10 NFL draft pick, is now a true junior and one of the most fearsome defensive players in the college game. Winovich has returned for his fifth year at WDE; he's pre-season all-B1G and projected as a second-day draft pick. Behind those headliners, sophomore NT Aubrey Solomon is on the star track, playing in the regular DL rotation in 2017 as a true freshman.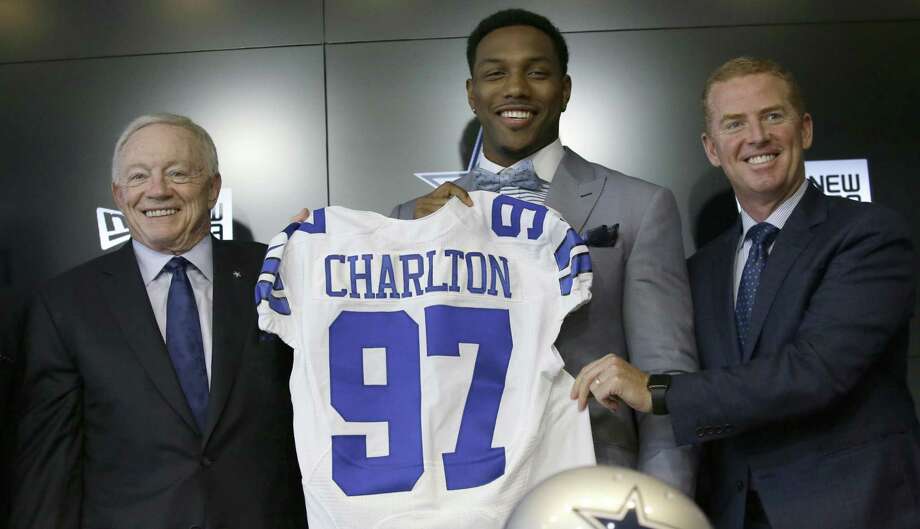 That leaves only 3T in question among the starting DL positions. The expected starter there is redshirt sophomore Michael Dwumfour, a 285-pound penetrator in the Mo Hurst mold with a quick first step who the coaches have been hyping up ever since the since the end of last season. He'll undoubtedly be a downgrade from the player he's replacing—Hurst, a consensus all-American who was projected as a first-round NFL draft pick until a heart condition diagnosed in the scouting process kicked him to the fifth. But on a line with Gary, Winovich, and Solomon, all M really needs Dwumfour to be is healthy and okay.
Probably the more interesting aspect of Michigan's 2018 defensive line is the second string. This is only partly because the heavy rotation of defensive linemen means second-string DL play significant snaps. Winovich's eligibility expires after 2018 and Gary, as a sure-fire first-round draft pick, will likely leave as well. That means this year's second string gives us a preview of what to expect at the defensive end spots in 2019 and beyond. There are quite a few young players to watch.
Kwity Paye is the 6'4" son of Liberian refugees who Don Brown found playing tailback and competing on state champion 4x100 team in Rhode Island. Now he's a 240-lb. defensive end. Think Frank Clark without the DV. Paye got into eight games last season and should see more action in 2018 as the staff gets him ready to take over for Winovich at WDE next year.
At anchor, the awesomely-named redshirt freshman Luigi Vilain will compete with true freshman Aidan Hutchinson for snaps and the inside track on the starting role Gary is expected to vacate after 2018. Vilain, who came to Ann Arbor as a WDE prospect and bulked up to ~ 260 lbs., should be the more pass-rushy of the two and has a year in the system. But Hutchinson, with a bigger frame and the son of former Michigan star Chris Hutchinson, may develop into the better all-around player.
The second-string NT is the veteran Bryan Mone, now a 335-lb. fireplug who will likely be deployed mostly in short-yardage situations. Injuries have kept Mone from developing into the star player he appeared likely to become as a freshman, but there's always a role for a big-bodied run-stopper on a defense.
The other backup NT is another new face, redshirt freshman Donovan Jeter. He signed with Michigan as a 250-lb. defensive end prospect, and is now listed at 309 lbs. and playing on the interior. Between the massive weight gain, position change, and spring game cancellation, trying to predict Jeter's style of play or level of performance would be utter folly. But good NTs are hard to come by, so let's all hope he does well.
The guy you're probably the most familiar with, junior Carlo Kemp, was Rashan Gary's backup in 2017. But now he's up to 280 lbs. and has reportedly moved to 3T behind Dwumfour. If he's viable there, even as a reliable, Matt Godin-level backup, that would be great news. M has plenty of DE prospects, athletic interior DL are hard to find, and Kemp did not appear headed for stardom at the anchor position anyway.
So, based on the above, Michigan's anticipated 8-man rotation for the base 4-man DL would look like this:
That's not a bad lineup, especially if the unproven players at 3T and in the second string work out. But it's also worth noting that M played a fair amount of 3-3-5 defense last season, which involves taking an interior DL off the field (typically the NT) and replacing him with another linebacker. While this concept sacrifices size, it adds a bit of speed to the defense and, more importantly, better enables the defense to confuse blockers because any of the nominal LBs can rush (and effectively become the fourth DL). It just so happens that M has a number of linebackers they might rather have in the game this season than an unproven role player at 3T. So don't be surprised if we see a fair amount of three-man lines with Gary, Solomon, and Winovich, joined by physical ILBs like Noah Furbush or Joss Rosh as the fourth effective DL. Indeed, unless Michael Dwumfour proves to be everything the coaches say he is, do not be surprised to see the 3-3-5 even more than Don Brown's traditional 4-2-5 base. And that's, well, pretty much fine.
Defensive Line: Bottom Line
Probable starters:Rashan Gary (Anchor), Chase Winovich (WDE), Aubrey Solomon (NT), Michael Dwumfour (3T)
Key backups:Carlo Kemp, Kwity Paye, Luigi Vilain, Bryan Mone, Donovan Jeter
Other possible options: Ronald Johnson, Rueben Jones, Lawrence Marshall
Position grade:A-
One defensive end is an all-American, the other could be one, and the NT is a budding all-star. This is another kick-ass DL that Mattison has put together. Only the lack of a proven 3T and some unproven players entering the rotation keeps this from being a solid A.